Blue Bloods Recap: Season 13 Episode 16 "The Naked Truth"
Blue Bloods Season 13 Episode 16 "The Naked Truth"," as per the CBS synopsis, "Jamie and Eddie find themselves at odds when Jamie learns that Eddie's close friend Tracey (Alysha Umphress) may be using the restaurant she owns as a drug front.
Also, Erin forms an alliance with Anthony and her ex-husband, Jack Boyle (Peter Hermann), when she is accused of causing the suicide of a former colleague; Frank weighs whether he should fire a female officer who has an online profile featuring naked photos of herself; and Danny and Baez try not to be influenced by their own biases when they are faced with various descriptions of the same suspect."
So make sure to bookmark this spot and come back from 10 PM – 11 PM ET! for our Blue Bloods recap. While you wait for our recap make sure to check out all our Blue Bloods recaps, news, spoilers & more, right here!
Tonight's Blue Bloods recap begins now – Refresh Page often to get the most current updates!
Tonight's Blue Bloods episode begins with Danny and Baez who are on the scene of crime, male, white, beaten to a pulp and robbed of his wallet. He is still alive, but barely, may not make it to the hospital. Danny goes to speak to the witnesses.
Jamie and Eddie are having dinner with Eddie's friend Tracey at her restaurant when their is an argument between her fiancé and chef Mericio and his cousin Stefano who pulls a knife on him. Tracey tells them to cool out and downplays it, saying that it was nothing, this goes on all the time in restaurants.
Erin is at Hudson University, she is speaking to a group of students. One of the women in the audience gets up and gives her an envelope, she has been served. Erin goes to the side and opens up the envelope, the sister of Robert Davis, from her office is suing her saying that she caused him to commit suicide.
Frank, Sid, Abigail and Garrett are in Frank's office and Garrett brings up a website, Privately Plus, a place where people pay to see naked people, or body parts, officer Gillson is on the website. Abigail can't process it, Garrett thinks it is fine because she is not in uniform.
Danny and Baez are at the station, the victim is in a coma, he had some Lion King tickets in his pocket, through the tickets she found his family who is at his bedside. Danny has some info regarding the perp, but it is all different. Looked like the witnesses were just filling in the blanks.
Jamie gets called in to see Sid regarding he and Eddie dining at Marino's restaurant the night before. Sid has intel, they think heroine and ecstasy are being shipped there from southern Europe in food crates. Sid tells him that he is now the point man on this operation, and he can't tell Eddie.
Erin and Anthony are in a cafe, Jack Boyle joins them regarding the lawsuit. Anthony told jack about the case, Robert Davis, an ADA in her office was a secret drunk, six months ago she caught him throwing cases for organized crime figures and fired him. Then, he hung himself.
Eddie and Jamie are walking down the street when he asks her about Tracey's fiance, she says she doesn't know much about him.
Frank has Gillson in his office and tells him that they have rules about work they do outside the office. She says she has gone great lengths to keep it private and the last thing she would want to do is disrespect the department.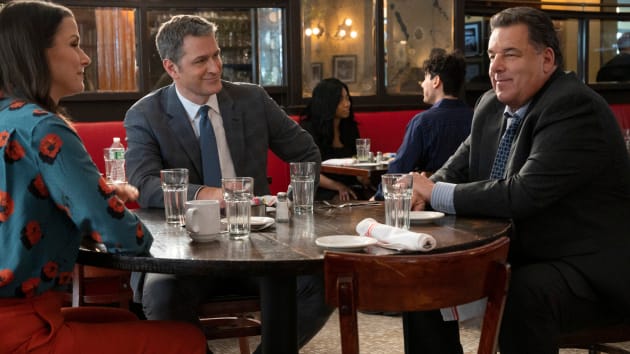 He says moonlighting on the job comes with restrictions. He asks her why she joins the NYPD if she needed money, she says it is because her mother has stage four cancer and she will be damned if she doesn't do everything she can to get what she needs, and she can't do that on her paycheque with the NYPD alone.
Danny and Baez have a suspect in the station, Atkins, he is wearing a black puffer jacket like witnesses recounted and when officers tried to question him, he starting laying punches. Atkins says he was targeted because he is black. He says he made some mistakes, but he is a working man.
Eddie goes to see Tracey at the restaurant and she finds out that Jamie was there earlier and mentioned they might want to invest, Eddie is surprised. Mericio and Stefano walk in, Mericio gives a different story about Sandy who left to work in the city, Tracey shakes it off and says Sandy was alway a flake.
Anthony and Erin are walking into the office when they see ADA Sydney Sloan with a book of her personal things, she says she is transferring out because she is shocked that Robert killed himself because Erin fired him.
At the family dinner, Frank mentions what Gilson is doing on her own time, he hasn't made a decision, he says he is mulling it. Henry reveals that one, he and Betty went to a nudest camp, he never felt so free. Sean doesn't think it is a big deal about Gilson, he says times have changed.
Erin walks in to Robert Davis' sister and tells her that she only fired her brother because he was involved with a drug cartel, one run by Manny Vargas. It was Robert's gambling debts that let Vargas get his claws in him. In fact, the whole thing will come out in court for the world to hear. She says her brother was still a good man. Erin says they could go to court, or they could keep talking about the good man her brother was and how he deserves to be remembered,
Sid has Eddie in the office, he found out that she was asking questions at Marino's restaurant and he thinks Jamie told her about the case. Jamie is there and he says he didn't tell her, it was her intuition.
At the hospital, the victim, Mr. Duckworth, is out of the coma. Baez gives him a photo of various black men and ask him to pick the guy out. He says it is none of them, the guy was white. He goes on to say the guy's name was Spencer, he must have been in a frat because he had Greek letters tattooed on his hand.
Eddie and Jamie interview Sandy, she says she saw what was inside a food crate, there were drugs everywhere and both Mericio and Stefano were there. She doesn't know if Tracey knew, but she says she has to.
Danny and Baez are able to track down Spencer Holland, he lives in a frat house, they look at his hands and there are marks all over his hands. He admits he did it and asks if he could put on his shoes before he goes to jail.
At Marinos, Eddie, Jamie and a team go in, Jamie has to shoot Stefano to defend himself. Tracey is not there and the place is full of drugs in food crates.
Danny goes to see Atkins as he is let out, Danny says they all make mistakes, him included and he is sorry he didn't hear him, but wishes him luck with turning his life around.
Tracey didn't know about the drugs.
The lawsuit against Erin is dropped.
Gilson goes to speak to Frank and says she can't turn down her donations online so she is quitting the force, she gives him her badge. He tells her to put it back on.
THE END!