Who Played Maya On Blue Bloods?
While the show has its fair share of cringeworthy moments, there are a number of excellent episodes to enjoy from the long-running CBS series "Blue Bloods." The show continues to be a hit with home audiences in its 13th season, and it's no secret fans probably love rewatching old entries over and over again. When revisiting every minute of "Blue Bloods," it's normal for viewers to see an assortment of familiar faces along the way playing minor roles in entries, and some fans are probably wondering who played certain characters, like Maya from Season 4.
In the episode "Insult to Injury," Jamie Reagan (Will Estes) flirts with a pretty bike messenger named Maya while grabbing a cup of coffee, only to later learn she isn't what she seems. He quickly realized the number she gave him was not hers, and the money she used to pay for her coffee was counterfeit. It turns out Maya was partaking in a money laundering scheme involving the fake currency.
Jamie planned to go undercover with Maya to get to her source but quickly realized the professional thing to do was hand her case over to the Secret Service. They end up taking Maya into their custody before she bids farewell to Jamie one last time.
Maya has not returned to the series since appearing in Season 4, Episode 16, and it is unknown if she will ever come back to the police procedural. But the actress that plays the character has been in an assortment of other projects, and some people may be surprised to find out about the talented star that portrayed the criminal bike messenger in "Blue Bloods."
Shelley Hennig played Maya on Blue Bloods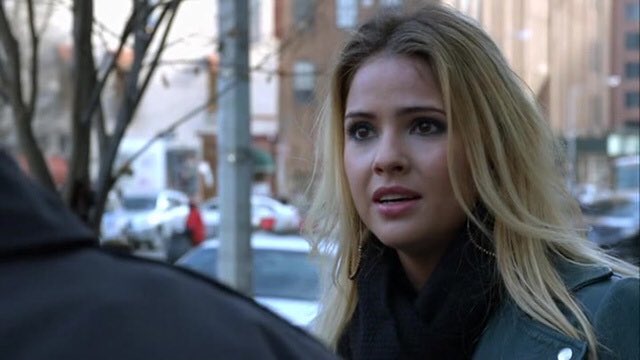 The character of Maya in "Blue Bloods" was played by actress Shelley Hennig. The talented Hollywood player has been in the acting game for some time, with credits staying black all the way to 2004, and in the process, has attached her name to some notable projects on both the big and small screen. Besides "Blue Bloods," Hennig has been featured on several other big-name shows, such as "Justified," "Dollface," and "Mythic Quest." But she isn't just making minor appearances, as she has headlined a number of worthwhile endeavors. One achievement that stands out in her body of work is the actress's efforts in over 460 episodes of the soap opera "Days of our Lives" as Stephanie Johnson. She also starred in several seasons of the hit series "Teen Wolf" as Malia Tate. In regards to her achievements in the realm of movies, Hennig has several impressive credits on her resume, including "Roman J. Israel, Esq.," "Ouija," "Unfriended" and "Teen Wolf: The Movie."
It seems pretty safe to assume that Hennig has a passion for acting, and she plans to keep doing it for as long as she can. When asked if there were any goals she had in regards to working in unfamiliar genres or lending her skills to a franchise, in an exclusive interview, Shelley Hennig responded, "Not really, to be honest. I take it as it comes." It appears she is ready for whatever challenge comes her way, and many people will agree it will be quite fascinating to see what else she achieves.