NCIS: LA's Eric Christian Olsen cheers on co-star as they prepare for series finale
The CBS show is ending after a 14 season run
NCIS: Los Angeles is nearing its end after a 14 season and 300 episode long run, and its cast and crew members are definitely feeling the feels.
Among them is star Eric Christian Olsen, who took to social media to express support for one of his co-stars and someone who happens to be a close family member, Daniela Ruah.
Daniela shared snippets from her last time directing the show
Daniela shared a video clip compiling photographs taken from her sixth and final time directing an episode of the show on her Instagram.
"A little BTS from this ep," she simply captioned it, immediately receiving a barrage of likes and supportive comments, especially from Eric, who took to his Instagram Stories to repost the clip and cheer her on.
MORE: NCIS: Los Angeles star Daniela Ruah's rare eye condition explained
TRENDING NOW: Sarah Ferguson has surprising response when asked about Prince Harry and Meghan Markle
He was also present with her at the show's wrap party that took place in LA on Friday alongside the rest of their castmates like LL Cool J and Chris O'Donnell. Check out how Daniela celebrated the show at the party in the video below.
Eric's wife Sarah Wright, however, was unable to attend the party unlike some other family members of the cast in order to care for their three children.
She revealed in an Instagram comment that she was at home caring for their son Wyatt, nine, who had taken ill with a 104 fever.
The series finale airs on May 21, and while chatting with Parade at the wrap party, showrunner R. Scott Gemmill spoke about the challenging task of crafting the final episode of a long-running drama.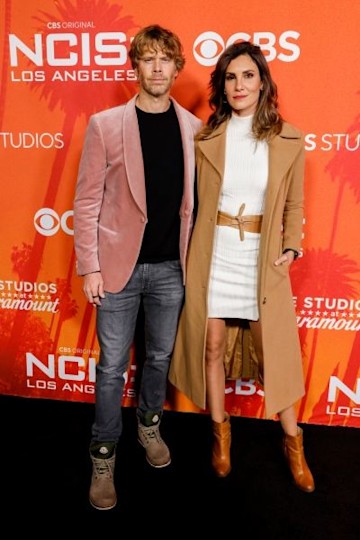 "In fact, the longer you're on the more difficult it is because there's so much expectation and how do you live up to that?" Gemmill asked.
"We just took it on a character-by-character basis and tried to put them in a very good place in their lives and, hopefully, the fans will be happy with it. I think the last scene is really fun and hopeful."