Mark Harmon's decision to walk away from "NCIS" after 18 seasons in the saddle as Leroy Jethro Gibbs marked what was arguably one of the biggest and most unexpected series exits of the modern era. Given his status as series headliner, and the fact that "NCIS" regularly topped Monday night ratings at the time of his exit, fans were rightfully confused at Harmon's self-engineered departure. And the confusion only deepened with the decision to leave Harmon's name and picture in the series' opening credits for the rest of Season 19.
The decision was particularly baffling because Harmon's final appearance as Gibbs came during the 4th episode, leaving the credit front and center for 17 more episodes even in his absence. Given how integral Harmon and Gibbs were to the series' popularity, the choice could easily be seen as a sort of loving tribute, with longtime producer Steven D. Binder telling TV Insider such a presence would long remain even in lieu of his physical being. "I wouldn't want [Gibbs' presence] to fade," Binder said, "because if I can't have Gibbs, I still love having his presence in there."
Binder later added there was likely also a more practical reason Harmon's credit remained. As the producer noted, such issues aren't usually addressed until a new season of "NCIS" approaches, claiming, "I'll have a more definitive answer for [the plan] once we actually have to build the [Season 20] title sequence, because that's really our deadline." True to his word, "NCIS" bosses waited almost a full year to remove Harmon's credit from the mix.
NCIS creatives were likely also holding out to see if Harmon might return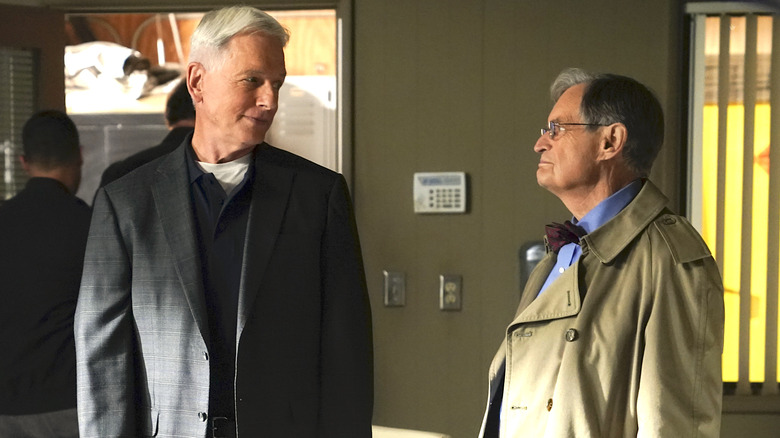 The words "a more definitive answer" stand out in Seven D. Binder's comments regarding Mark Harmon remaining in the "NCIS" credit sequence after his departure. And as the longtime "NCIS" producer noted, the fact that Leroy Jethro Gibbs wasn't killed off the show may have played into Harmon remaining in the credits, if only because it left open the possibility that Gibbs might return to action. "There's always head space for him to come back," Binder told TV Insider. "It just has to be the right story, I think, to get him excited about it and to get us excited about it."
CBS Entertainment president Kelly Kahl doubled down on that sentiment during a 2022 chat with TV Line, noting, "Everyone is aware that the door is open if [Harmon] ever wants to pop in for an episode, or multiple episodes." To date, Harmon has not yet found his way back into the "NCIS" fold. And it seems Harmon's continued absence was finally definitive enough for Binder and "NCIS" to finally take him out of the credits sequence ahead of the Season 20 premiere.
Despite some understandable speculation that Harmon's replacement, Gary Cole, would claim the top spot in Season 20's opening credits sequence, it was ultimately Sean Murray who filled the void. That choice seems more than fitting as his character, Timothy McGee, was Gibbs' protege for the bulk of Harmon's tenure. And we can only imagine Murray will hold that spot as long as "NCIS" remains on the air.