The world was shocked and saddened to learn recently that "NCIS" star David McCallum had died at the age of 90. A lifelong actor, McCallum made waves in the 1960s, '70s, and '80s with his performances as Illya Kuryakin on "The Man From U.N.C.L.E.," Simon Carter on "Colditz," and Steel on "Sapphire & Steel." However, it was McCallum's decades-spanning performance as Dr. Donald "Ducky" Mallard on the long-running CBS procedural series, "NCIS," that cemented his legacy as one of the most prolific TV stars of his generation.
Unfortunately, McCallum was never quite given the same kind of send-off on "NCIS" that his co-star, Mark Harmon, received when he stepped away from the show in 2021. On the contrary, McCallum continued to appear as Ducky, although sporadically, throughout the most recent season of "NCIS." He even appears briefly in the show's Season 20 finale, titled "Black Sky." Now, due to McCallum's death, his appearance in that episode marks his final screen turn as Ducky Mallard.
McCallum's role in the episode is fairly small, though, he does provide Alden Parker (Gary Cole) and Leon Vance (Rocky Carroll) with some important new information about their latest target. While it's undeniably tragic that the actor didn't get a bigger farewell on the show, too, it's worth noting that Ducky's presence on "NCIS" had already shrunk quite a bit in the years leading up to McCallum's final appearance.
NCIS Season 20 features very few appearances from David McCallum's Ducky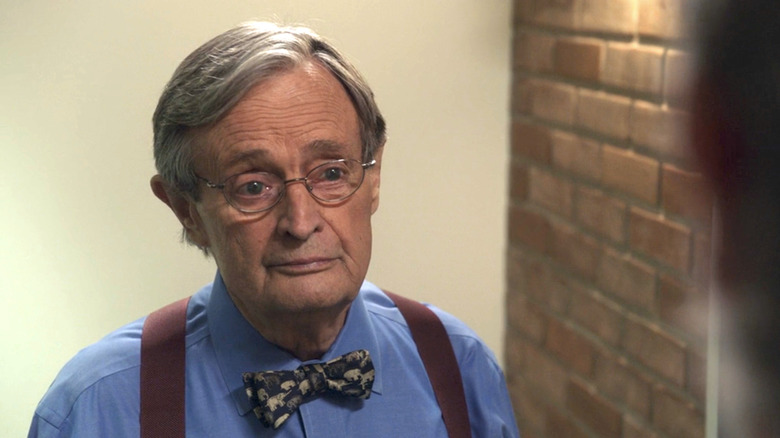 David McCallum's Ducky Mallard only appears in four episodes of "NCIS" Season 20, and the same is true for the series' previous season. In fact, the last time that McCallum appeared in more than half of an "NCIS" season's episodes was the show's 16th, which premiered in 2018 and concluded in 2019. Following that season's conclusion, the actor began to appear in fewer episodes every year.
In a November 2022 interview with Radio Times, McCallum revealed how strange it felt to continue appearing on "NCIS" even after many of his previous co-stars had left it. "When I go there it's like being in a different show," the star confessed. "It doesn't quite make sense any more." In an interview with The Hollywood Reporter conducted prior to McCallum's death, "NCIS" executive producer Charles Floyd Johnson also acknowledged the smaller role that the actor had adopted in the show's most recent seasons.
"David McCallum doesn't do that much in the series anymore," Johnson said. "He may come back and do four or five episodes. It's much too hard on him now, and I think he's ready to retire." Notably, McCallum never officially stepped away from "NCIS" or retired prior to his death. Due to this year's WGA and SAG-AFTRA strikes, which delayed the filming of any new "NCIS" episodes, he also never got the chance to film any more scenes for the show following his appearance in its Season 20 finale.
Whether or not he was even going to is a question that may never be answered. Either way, "NCIS" fans can at least rejoice in the sheer number of episodes that McCallum's Ducky was a part of over the course of his 20-year run on the series.