Porsha Williams has been a staple in the headlines as of late.
"Real Housewives of Atlanta" star Porsha Williams figured it was time to walk away from the show. After a decade of sharing her life on the platform, she decided to depart amid her controversial engagement. Prior to announcing her departure, Porsha confirmed her romance with Simon Guobadia. Fans were in shock. The first time Simon made an appearance on the show, he was married to Falynn Guobadia. On the previous season, Falynn was introduced as Porsha's friend. However, Porsha would later say they were never friends. However, a lot of fans couldn't get over the fact that they saw Porsha hanging out with Falynn. And it was messy that Porsha was at their house and then began a relationship with her ex-husband.
Although Porsha told fans that she wasn't the cause of Simon and Falynn's split, the optics have resulted in a lot of backlash. So some people suspected Porsha left RHOA because she didn't want to be called out for the situation by her RHOA costars. Instead, Porsha decided to address the controversy on "Porsha's Family Matters." However, her spinoff show has been a hot topic on social media. And Porsha has been receiving a lot of criticism for the last couple of episodes.
Well, people still have a lot to say about Porsha's altercation with Dennis McKinley. In fact, Claudia Jordan didn't hold back her thoughts. And she was very critical of Simon and Porsha.
Porsha Williams was involved in another altercation on "Porsha's Family Matters."
Claudia Jordan clashed with Porsha Williams during her time on "Real Housewives of Atlanta." While Claudia was on the show, she accused Porsha of messing around with a married man for a luxury car. Porsha denied the accusations. So it's no surprise that Claudia is someone fans thought about when Porsha confirmed her engagement to Simon Guobadia. At the time of the announcement, Simon was still married to Falynn Guobadia. But they had ended the marriage months prior. In fact, Simon accused Falynn of cheating on him with her assistant, Jaylan Banks. Jaylan and Falynn now have a child together.
Although Falynn has moved on, Porsha has still been receiving backlash on social media. Some fans of the show just feel she broke the girl code by being with Simon. Regardless, Simon said Porsha sent him a DM on Instagram after he confirmed the breakup. Both Simon and Porsha have denied beginning their romance while Simon was still with Falynn. Interestingly enough, Falynn still feels they may have been messing around while she was filming RHOA last season.
The altercation between Dennis Mckinley and Porsha has a lot of people talking on social media. On the recent episode of "Porsha's Family Matters," Dennis said that he saw Porsha lunging at his mother. So he got in between them. And that is when Porsha started swinging on him. The situation got so bad that Porsha was seen throwing dishes and production equipment in Dennis' direction. She was called out on social media for once again being violent on television. However, Porsha would later say in a statement that cameras didn't catch what Dennis did. She seemed to insinuate that Dennis was violent first and she just reacted. However, a lot of viewers aren't buying Porsha's version of events.
Claudia Jordan thinks Porsha Williams doesn't take accountability for her actions.
Well, the hosts of Fox Soul's Tea-G-I-F aren't buying Porsha's story either. Al Reynolds said, "I don't know. This appears to me to be the beginning story of a Georgia peach's fall from grace, to be honest with you. I think we shared a couple of shows back, a couple of months back, I think we're getting a front seat to the real Porsha Williams. And this front seat isn't showing her in a very flattering way. I think that we know Porsha can be violent. At the end of the day from what I can see and what I was told and read, the real star is Dennis and Mama Gina."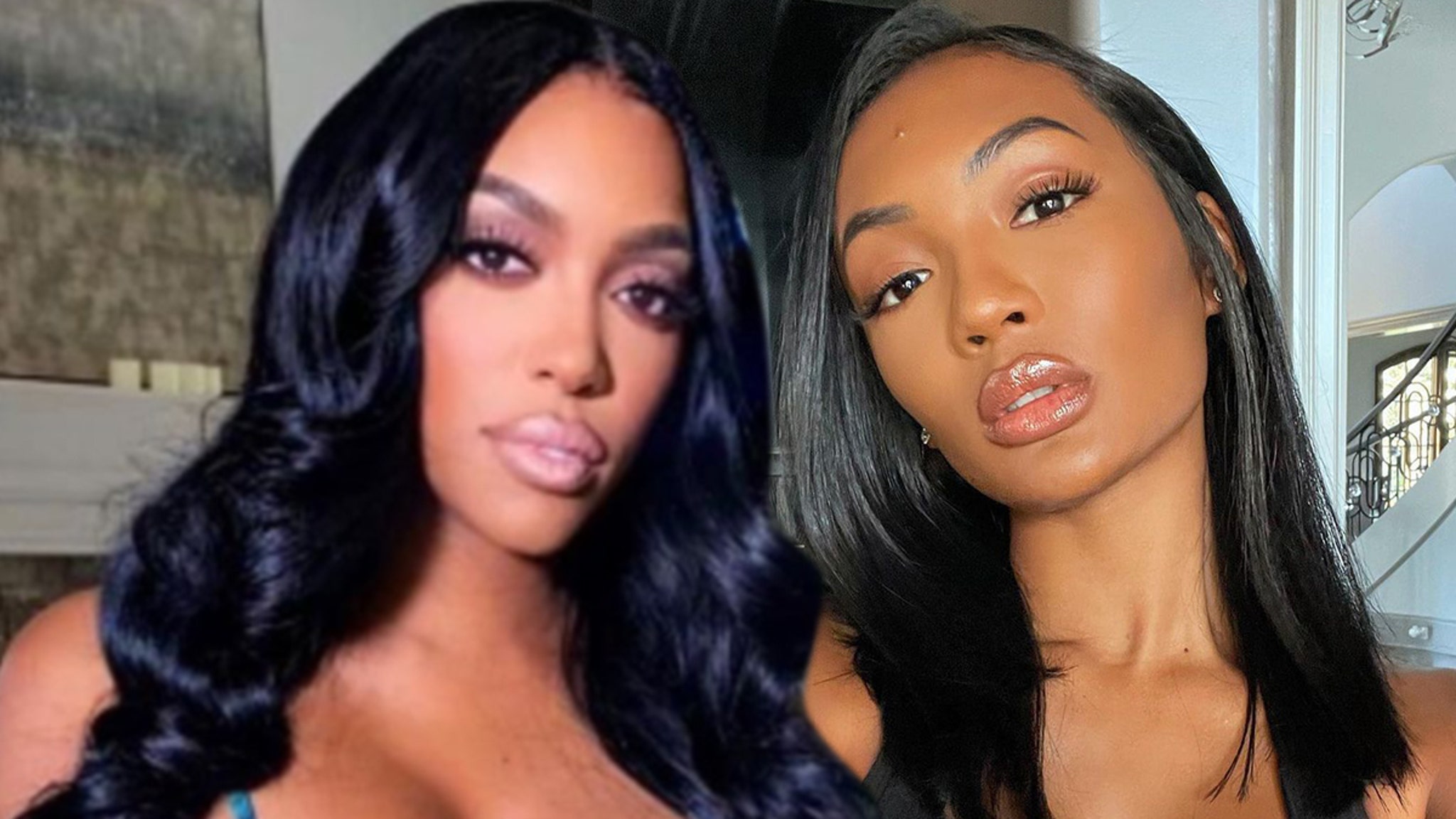 Claudia said Porsha never takes accountability. "With the other ladies, we could say, 'Oh it was Kenya. She was provoked.' And with the other girl, her friend, 'Oh, I was drunk.' Then with Cynthia, 'It was editing.' It's always someone else's fault. When is it your fault? You're lunging at your child's daddy's mom. And he reacts. I didn't see him put his hands on you. And it's always someone else's fault. At some point, you have got to say, 'I need to chill the h*ll out.' This is her fourth altercation that we know about. And trust me, there's more."
She continued, "Porsha Williams, we don't rock with each other. I'm just doing my job. But you are messing up a bag. You're gonna be another one to fumble an amazing bag. You have everything there for you. You're quitting all your good jobs to do this show. You put all your eggs in one basket. And you like…it's very trashy. You fight everybody. Who's next?"
Al joked, "You (laughs)." In response, Claudia said, "I'll call the cops. I ain't fighting. I'm 48 years old."
Claudia Jordan believes Simon Guobadia and Porsha Williams are thirsty for attention.
Funky Dineva said Porsha isn't being smart. "There are two people here who should be concerned. Number one, I think Simon should be concerned because why is that you're having such an emotional response to that former part of your family, former part of your life? Why is that side of the family able to pull out that type of emotion from you? Number two, Porsha should be concerned. Any man that gets married four times, creates children in some of these marriages, some of them he didn't, that's a habit thing."
He added, "That's a I do a couple of years with you. I foo la la, I get bored then I move on. So you round here quitting all your jobs and carrying on and putting all your eggs in one basket, it just does not feel smart to me."
Claudia thinks Simon and Porsha are both thirsty for attention. "I think they're both so thirsty and desperate for the attention, for the constant feeding of the ego that they'll both do anything to stay in the headlines. Him getting a tattoo on his wide back or his shoulder, wherever it was, her marrying this guy that had three other failed marriages and so quickly…it's obvious there are still some feelings for Dennis. You won't give back his robe, you don't want him to bring a date and these emotions she's showing for him. I think she should have worked on that first before going on television and been solid with her man."